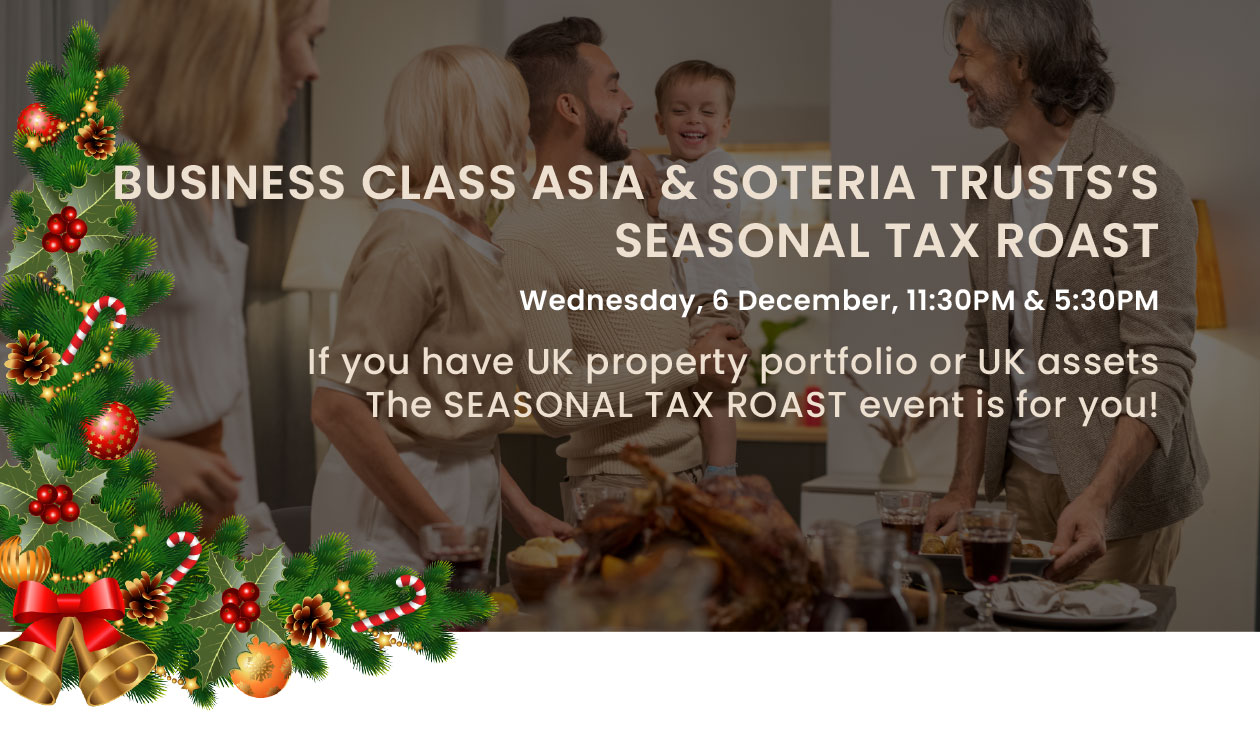 The Christmas season brings families together to enjoy the festivities and to welcome in a New Year full of optimism, promise and prosperity, so why not add the topics of legacy planning, estate distribution and tax mitigation to the menu as it could be another year before you are all together again.
Do you want to protect your hard-earned assets for the long haul? Do you want to ensure that your estate goes to the people you want it to with as little tax liability? Well, you are in the right place! Our online seminar is tailored to anyone who wants to be informed about smart tax structures for every pocket.
Business Class Asia' Seasonal Tax Roaster on 6 and 13 December 2023 ONLY!
All attendees are offered a post-seminar no-obligation consultation with the experts to review any legal documents they have in place and an overall plan. The session is aimed at those who haven't yet put a proper plan in place and those who have but haven't reviewed it in a few years.
We will discuss how you can strategically plan your taxes to avoid Capital Gains Tax, Inheritance Tax, and reduce the ever-increasing amounts of Income Tax that keeps eating into any profit you get from your property portfolio.
But that's not all! We will also reveal insider tips on how to have a productive conversation with your loved ones about estate planning and your choices to distribute your estate.
Our specialists each have decades of experience when it comes to reducing taxes and will also explain how to best structure, protect and distribute your personal and business assets for the future and discuss options such as:
Family Investment Company (FIC)
Business Relief Account (BRA)
Property Pension – Qualifying Non-UK Pension Schemes (QNUPs)
Tax-Efficient Retirement Plans
Regular Saving and lump sum Investments Accounts: Soteria Lite and Soteria Flexi Builder
Don't let the taxman steal your holiday cheer! Register now for our Seasonal Tax Roast and get ready to roast those taxes like never before!
Date:
Wednesday, 6 December 2023
Time:
11:30 PM – 1:00 PM
5:30 PM – 7:00 PM
Format:

REGISTER FOR ZOOM WEBINAR

Location:

ZOOM WEBINAR